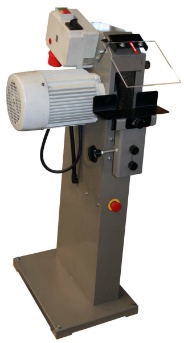 Even though deburring contributes substancially to your costs, the deburring process often is not given the necessary attention compared to other working processes.

Economical deburring is now possible thanks to the KEIL deburring machine.

One machine will deburr tubes, sections, barr, round barr ect.. The tool is a rotating high performance brush. The material, especially hardened wires, chip off the burr. By rotating the work piece the burr is removed inside and outside in one pass. In a few seconds the edges are slightly rounded and smooth. The risk of injury for further processing is eliminated. The machine is equipped with two rotational speeds. Steel and stainless steel gets deburred with 3000 rpm, while non-ferrous metals are deburred with 1500 rpm. Changeover of brushes is easy and fast. Just open a side cover, loosen security screw and remove brush.

The compact and solid build brush deburring machine will suit into every metal working company. It's solid built guarantees a long life. KEIL brush deburring machines pay back for themselves in a very short time.